DENVER DESIGN WEEK – Equity by Design
DENVER DESIGN WEEK – Equity by Design
July 13, 2016

We are proud to be an inaugural partner of Denver Design Week, the eight-day showcase that celebrates and elevates design in our community. From education sessions to home and studio tours to networking events, Denver Design Week is an opportunity to shine a light on our local creative community—and to raise the bar for good design in Colorado and beyond.
JOIN US ON WEDNESDAY JULY 13TH FOR
Equity by Design:

Why We Need to Represent the Demographics We Serve
Our Titanium Sponsor and Community Board of Director Member Martha Bennett will be participating on the panel.  
Tickets are available here
Why are we involved? Because we know firsthand the power of good design to shape our lives in meaningful ways. Because we feel an obligation to contribute to the ongoing dialogue about how to harness the power of design to improve our world. And because we believe in supporting the people, businesses, and organizations who make Denver such a special place to live.
We hope you'll join us at Denver Design Week, July 8-15. With 28 events to choose from, there's something for everyone—topics include architecture, graphic design, city planning, branding, interiors, real estate, development, landscaping, technology, kitchens, service, preservation, design thinking, and beer, to name a few.
Interested? Check out the schedule online, follow along on their social media, and join us at the Launch Party on July 8!
This is a big deal for Denver, the design community—and us. Be part of this initiative and join us in celebrating our local creative community!
---
August First Tuesday Recess
August First Tuesday Recess
August 2, 2016 – August 2, 2016
BCycle Station at Denver Union Station

Map and Directions | Register
Description: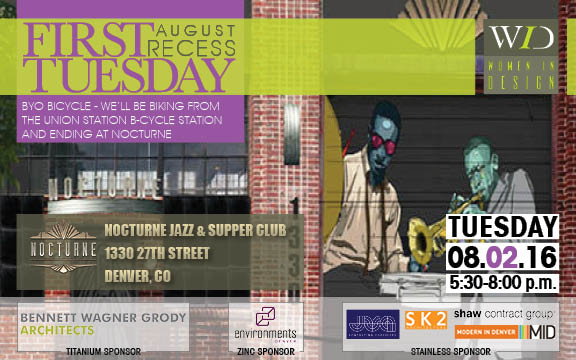 WiD invites you to travel to August's First Tuesday Recess via bicycle tour around downtown Denver.  This event is free, open to members and non-members but RSVP is required by July 29th.  Bring your own bike or if you don't own one, WiD will provide a BCycle shared bicycle for you.
Cycling not your thing?  Feel free to meet us at Nocturne (RSVP still required).
Schedule
5-5:30 Meet @ Union Station BCycle Station, 1651 Wynkoop St.
5:30-6 Bike to Nocturne, scenic route, highlighting new construction & businesses
6-8 – Networking + live music + appetizers & drinks @ Nocturne, 1330 27th Street
---
First Tuesday Recess
First Tuesday Recess
June 7, 2016 – June 7, 2016
The Crafty Fox

Map and Directions | Register
Description: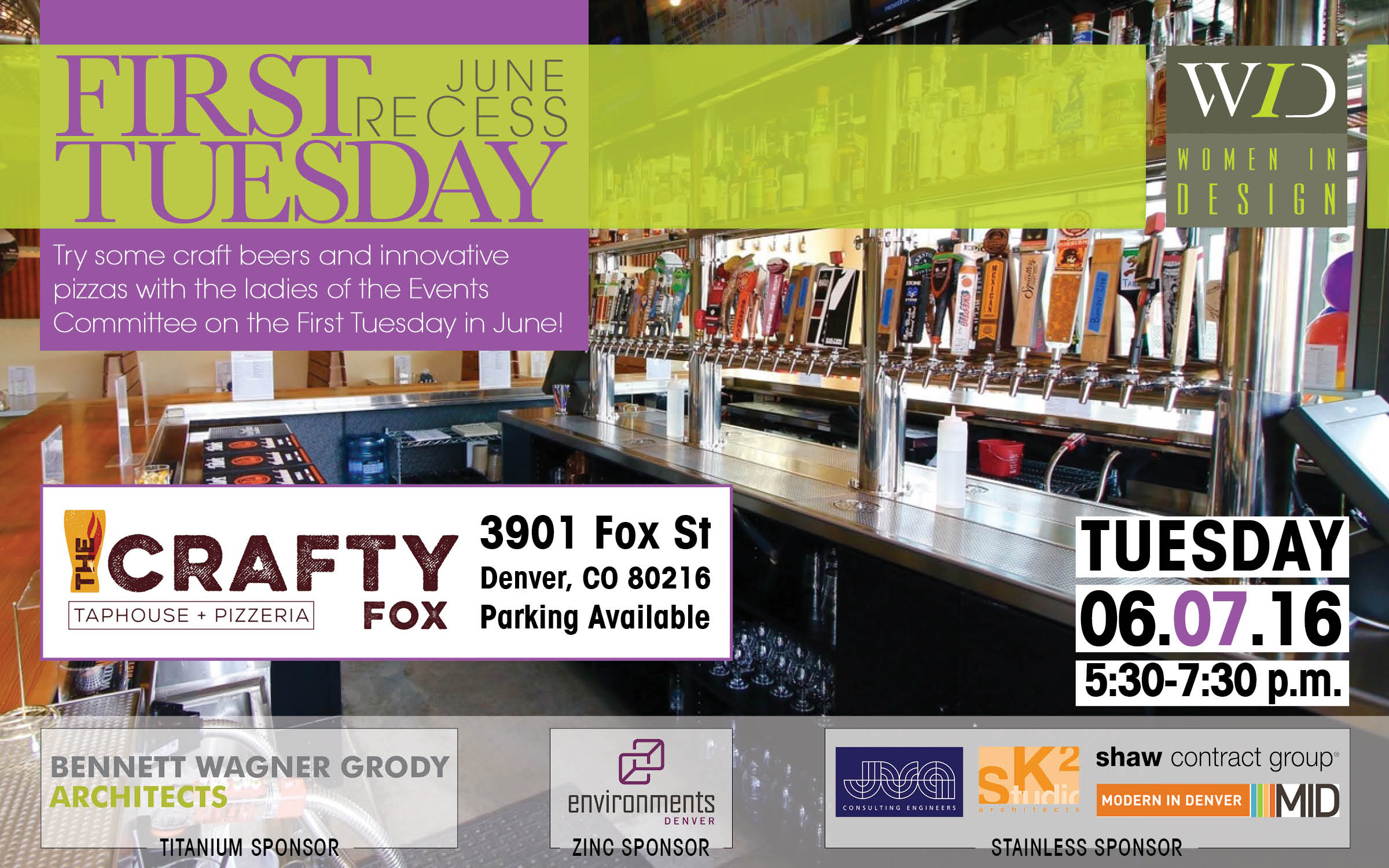 This is an open event – invite friends and colleagues.  No RSVP required.
---
A hackathon to fight global poverty.
A hackathon to fight global poverty.
For the second year in a row the Posner Center for International Development is bringing together Posner organizations, the Colorado international development community, entrepreneurs, members of the tech community, and educators, to create collaborative, innovative solutions to international development challenges faced by Posner Center Tenants.
Join us from July 10-12, 2016.
The Posner Center brings together over 60 development-oriented businesses and organizations in a 25,000 square-foot shared space in Denver's Curtis Park neighborhood to spur innovation by enabling groups to cross-pollinate through the exchange of ideas, the overlap of programming, and the generation of more comprehensive and lasting solutions to global poverty. The Posner Center is located at 1031 33rd Street Denver, Colorado 80205.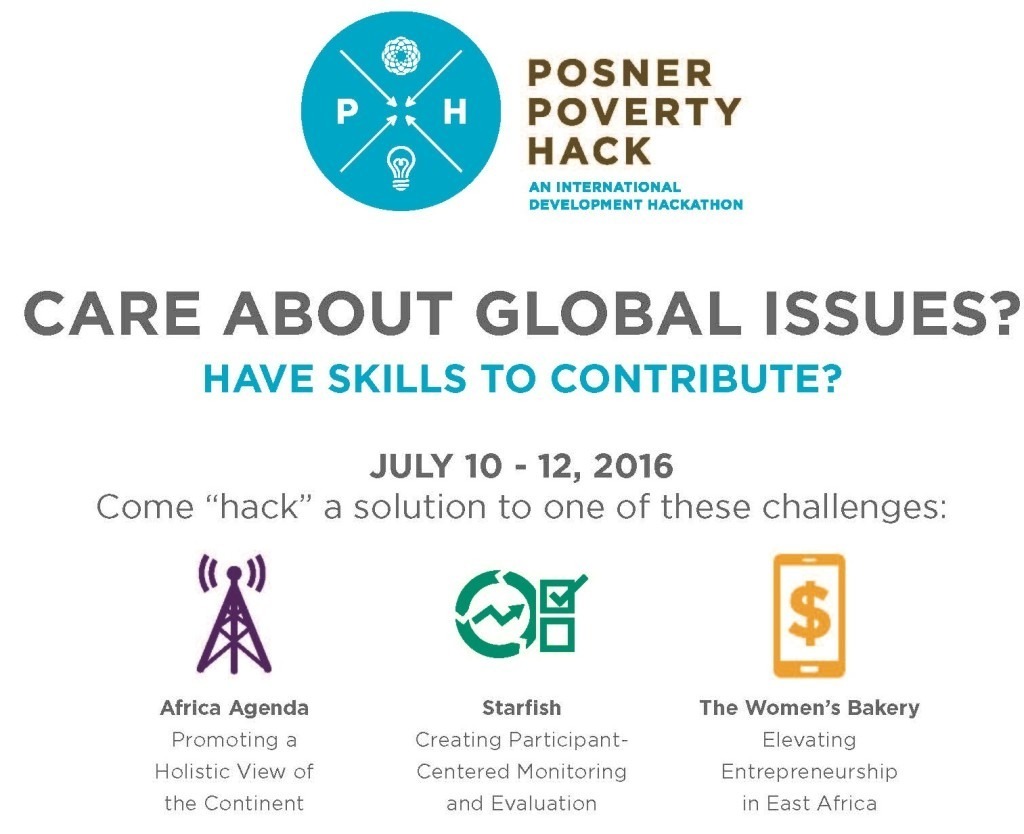 SCHEDULE July 10-12, 2016
---
3:30 pm – Check In
4:00 pm – Challenge Organizations Brief
5:00 pm – Team Building
6:00 pm – Dinner
7:30 pm – Close and Go Home
---
8:00 am – Breakfast
9:00 am – Hacking Challenges
12:00pm – Lunch
1:00 pm – Hacking Challenges
6:00 pm – Dinner
8:30 pm – Close and Go Home
---
8:00 am – Breakfast
9:00 am – Hacking Challenges
12:00pm – Lunch
1:00 pm – Finalize Pitches
2:00 pm – Initial Pitches
2:00 pm – Finalist Teams Announced
4:00 pm – Finalist Presentations
5:00 pm – Happy Hour Starts!
5:30 pm – Featured Speakers
6:00 pm – Winners Announced
7:30 pm – The End!
---
Featured 8×8 Presenters, Meg Froleich and Amy Beatie
Featured 8×8 Presenters, Meg Froleich and Amy Beatie
This is the final of a series of four posts spotlighting WiD's 2016 8×8 speakers.
Meg Froleich
Producer, Director and Writer, Strong Sisters
| | |
| --- | --- |
| | A producer for television, the Internet and multimedia, Meg Froelich has produced documentary episodes for the A&E series "Biography" and "The Twentieth Century with Mike Wallace." She worked on PBS' "American Masters and "The American Experience" series, as well as documentary series on education and childhood.  Meg produced the CD-ROM and DVD versions of Our Times: An Encyclopedia of the Twentieth Century which included narration by James Earl Jones and several mini-documentaries.  She produced the web sites for Our Times, Encyclonet, and for the National Archives of Singapore.  Recently she has produced pro-bono pieces for not for profit organizations in Denver.  Meg has served as an elected official as a Greenwood Village Councilmember. She is the former Executive Director of the Colorado Institute for Leadership Training and has taught social studies at the secondary and higher education levels.  She is a graduate of Bryn Mawr College and holds a Masters Degree in History from the University of Michigan. |
---
Amy Beatie
Executive Director, Colorado Water Trust
| | |
| --- | --- |
| For the last nine years, Amy Beatie has served as the Executive Director of the Colorado Water Trust, whose mission is to restore and protect streamflows using market-based, voluntary, win-win solutions.  Prior to that, Ms. Beatie practiced water litigation at two Front Range water law firms and clerked for Justice Gregory J. Hobbs, Jr. of the Colorado Supreme Court. Ms. Beatie was elected in 2013 as the first ever Environmental Representative on the Board of Directors of the Colorado Water Congress, is on the Advisory Council of the One World One Water Center of Metro State University, and serves on the Advisory Board of the University of Denver Water Law Review.  In 2013, she won the Colorado Foundation For Water Education's Emerging Leader Award.  She loves to ski, hike, raft, and fly fish, and is a proud member of Team X, a Women's Association of Colorado Hockey ice hockey team.  She obtained her undergraduate degree from Dartmouth College and her law degree from the University of Denver.  Her better two-thirds are her husband, Declan Galvin, and their amazing five-year- old son, who is really, really into Star Wars. | |
For more information about the event and to register, click here.
---