Mentoring by Design
Mentoring by Design
May 16, 2017 – May 16, 2017
1755 Blake St

Map and Directions | Register
Description: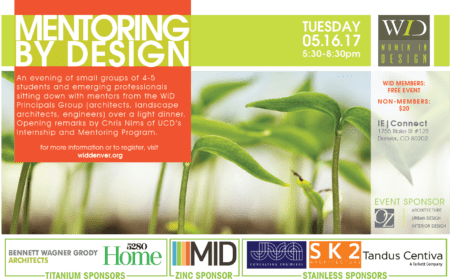 An evening of small groups of 4-5 students and emerging professionals sitting down with mentors from the WiD Principals Group (architects, engineers, landscape architects) over a light dinner. Opening remarks by Chris Nims of UCD's Internship and Mentoring Program.
Spaces are limited for this event and registration closes May 14th.  Register today!
Schedule
5:30 to 6:00 Arrival and Dinner
6:00 to 6:20 Opening Remarks
6:20 to 8:30 Small Group Mentoring
---
Terrarium Workshop
Terrarium Workshop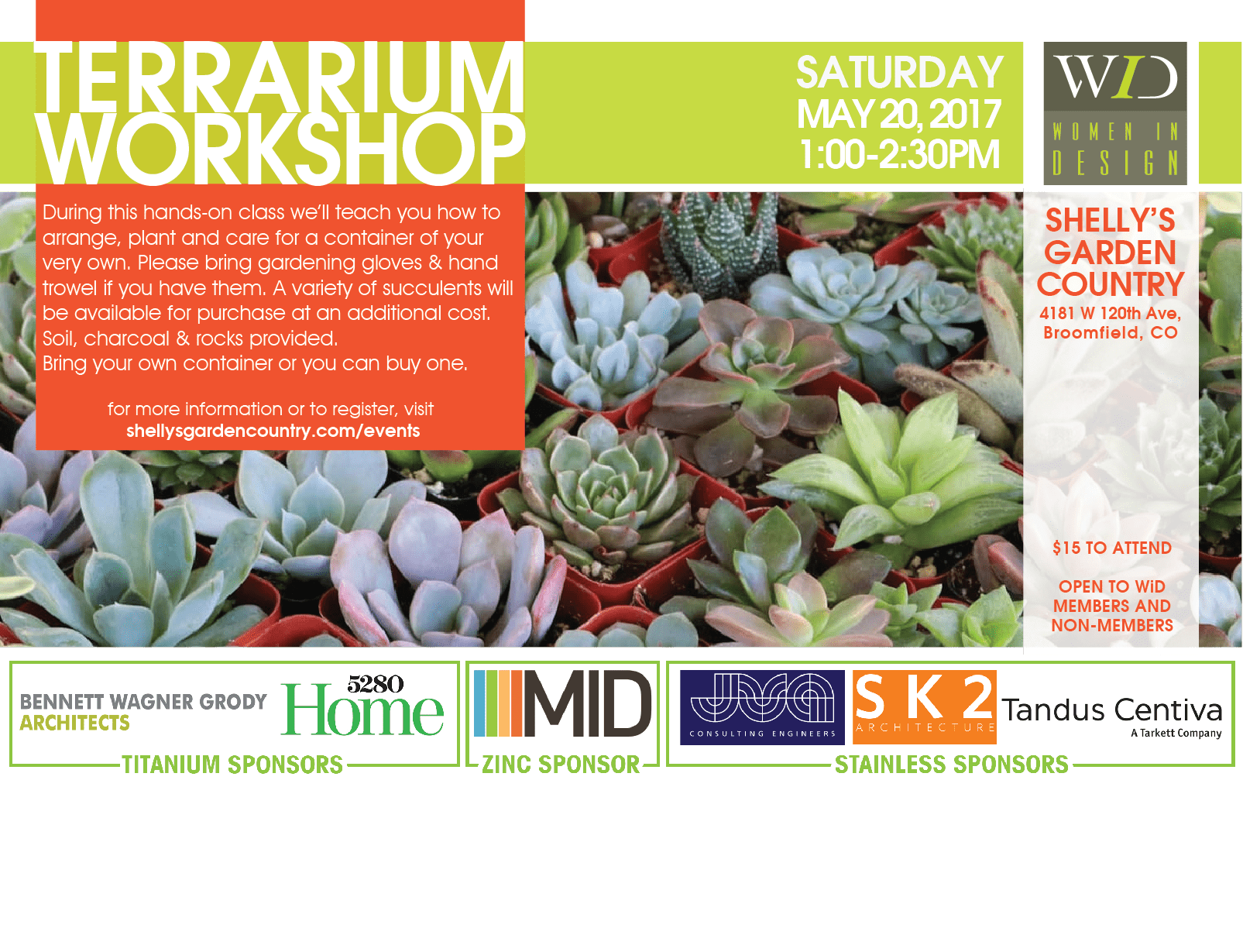 The cost is $15 for members and non-members. Bring your own container or purchase one at the workshop.
To register, sign up on Shelly's Garden Country's site.
---
Blueprint Denver April Workshop
Blueprint Denver April Workshop
Your Voice. Our Future.
Our community is undertaking an effort that builds upon our successes and proud traditions to design the future of this great city. Denveright is a community-driven planning process that challenges you to shape how we want to evolve in four key areas: land use, mobility, parks, and recreational resources.
Blueprint Denver Community Workshop – Growth
How Should Blueprint Denver Address Growth?
How will Denver address growth as our population continues to increase? Come be part of a scenario planning workshop to help identify the best path forward for managing Denver's growth.
http://www.denvergov.org/content/denvergov/en/denveright.html
Apr 25 2017
Start Time: 5:30 p.m.
End Time: 8:00 p.m.
Location: West Leadership Academy
951 Elati St.
Denver, CO
---
Top Denver Design
Top Denver Design
5280 Home is welcoming submissions for our second annual Top Denver Design issue. Entries can be whole-house projects, single rooms, or outdoor spaces. 5280 Home editors will choose the top spaces to professionally photograph and publish in our December/January 2018 Top Denver Design issue.
Enter your image Here!

---
Celebrate 5280 Home!
Celebrate 5280 Home!
Come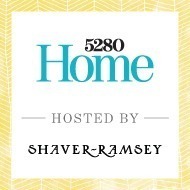 mingle with local design professionals while enjoying complimentary cocktails and heavy apps.
Reserve your spot today!
rsvp.5280.com
Code: HOMEMAY17
---