Mentoring by Design
Mentoring by Design
May 16, 2017 – May 16, 2017
1755 Blake St

Map and Directions | Register
Description: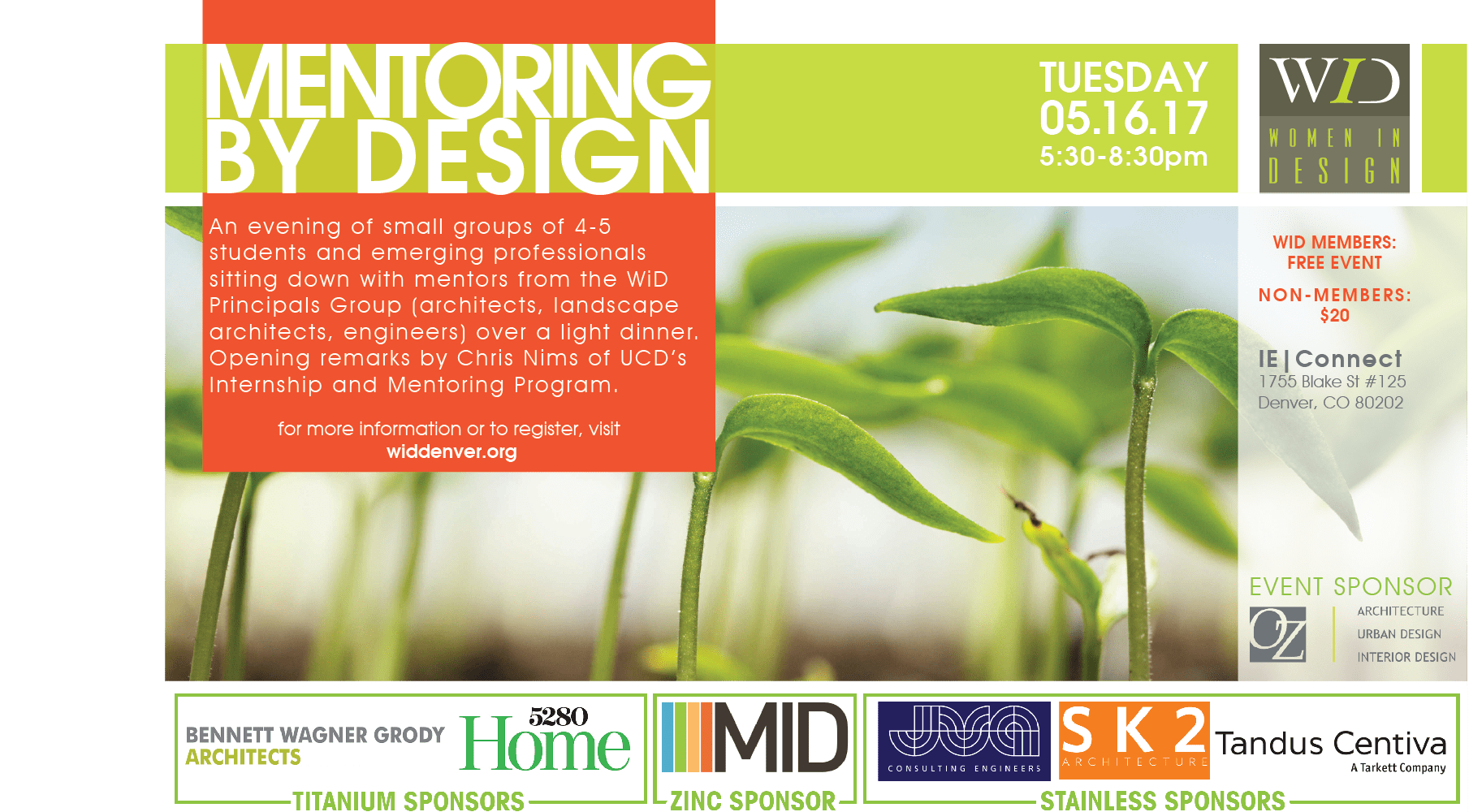 An evening of small groups of 4-5 students and young professionals sitting down with mentors from the WiD Principals Group (architects, engineers, landscape designers) over a light dinner. Opening remarks by Chris Nims of UCD's Internship and Mentoring Program.
Schedule
5:30 to 6:00 Arrival and Dinner
6:00 to 6:20 Opening Remarks
6:20 to 8:30 Small Group Mentoring
---
ZeroLandfill – Pollinate
ZeroLandfill – Pollinate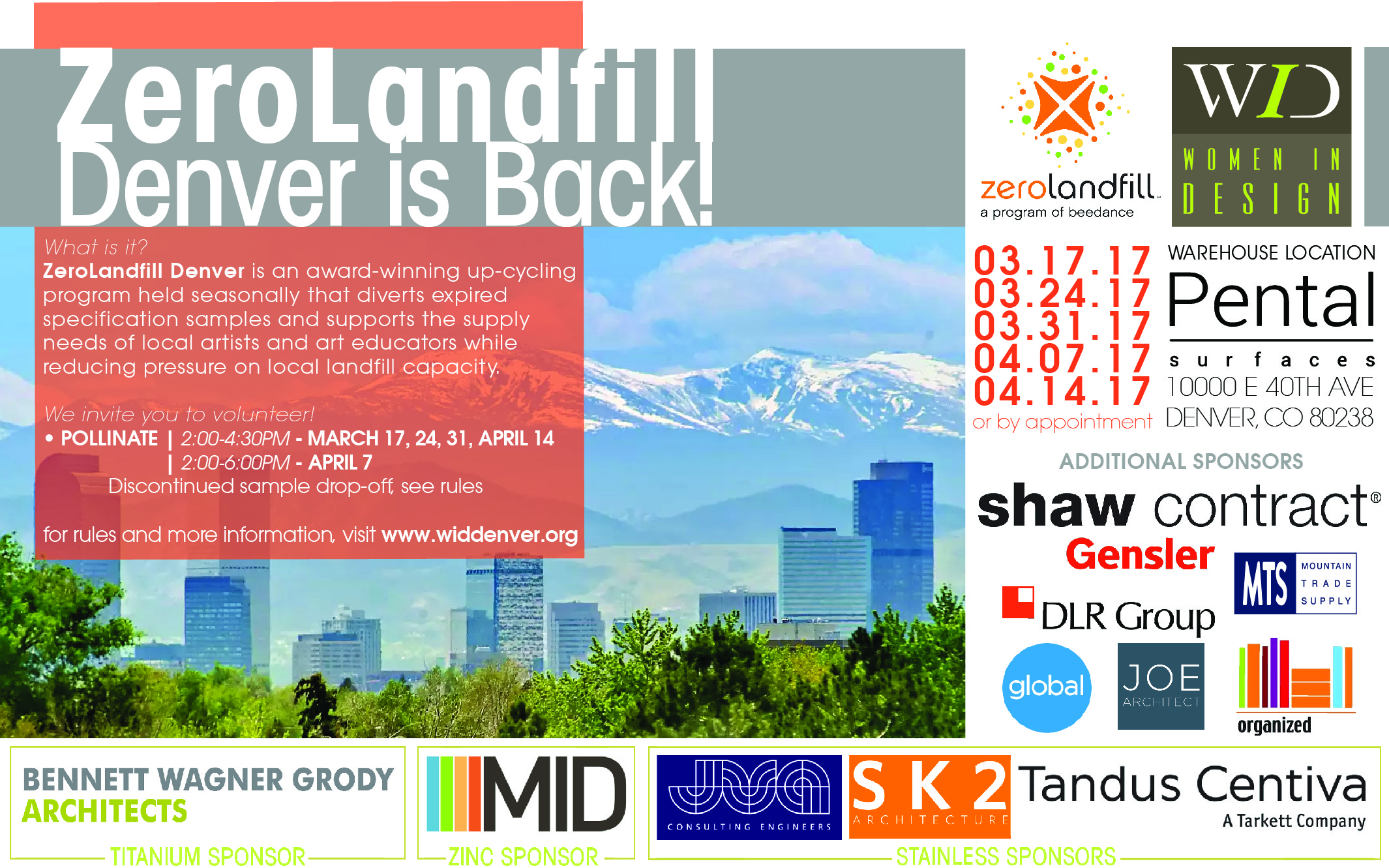 Pollination, the collection phase of ZeroLandfill has begun! ZeroLandfill asks for the donation of discontinued, expired or unused samples from designer libraries. A few tips for donation are listed below.
Please sort items by type in boxes with your firm/organization name clearly marked.
If possible, remove binders and/or backing and recycle prior to drop off.
Please DO NOT include paper, product catalogs or tip cards.
Donated materials may be dropped off at Pental Surfaces Denver Showroom only during the scheduled collection times – Between 2 PM and 4:30 PM on the following Fridays: March 17, 24, 31 and April 7, 14. See our ZeroLandfill page for more about the program volunteer opportunities and donations!
---
New Member Coffee
New Member Coffee
February 28, 2017 – February 28, 2017
3350 Brighton Blvd

Map and Directions | Register
Description: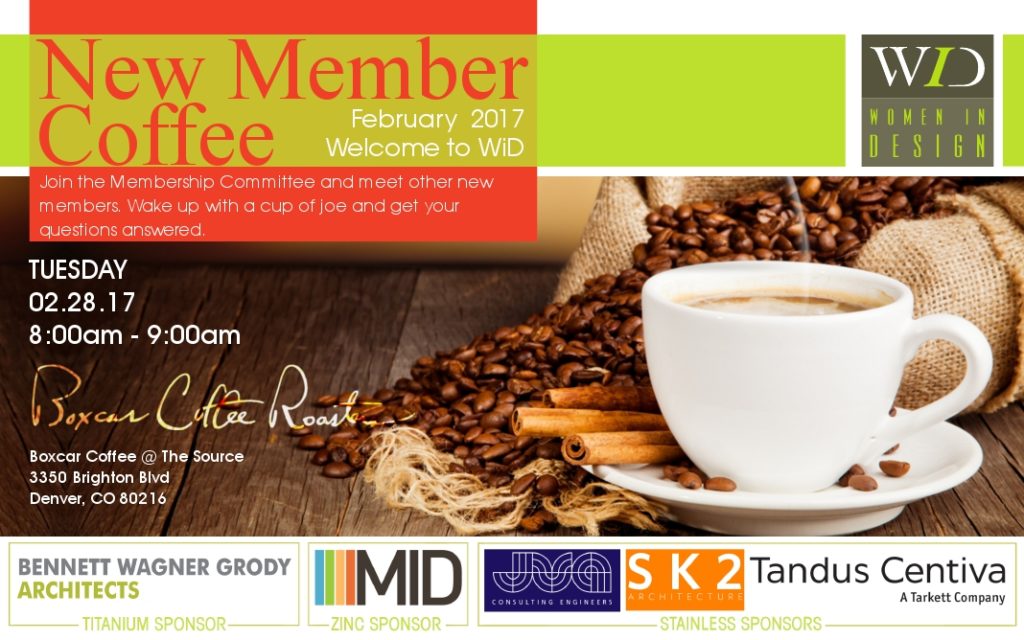 Join the Membership Committee and meet other new
members. Wake up with a cup of joe and get your
questions answered. Please RSVP by Feb. 27th
You must login to your WiD account first in order to RSVP.
---
Celebrate 5280 Home!
Celebrate 5280 Home!
Come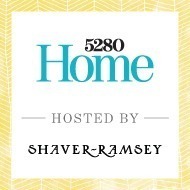 mingle with local design professionals while enjoying complimentary cocktails and heavy apps.
Reserve your spot today!
rsvp.5280.com
Code: HOMEMAY17
---
Blueprint Denver April Workshop
Blueprint Denver April Workshop
Your Voice. Our Future.
Our community is undertaking an effort that builds upon our successes and proud traditions to design the future of this great city. Denveright is a community-driven planning process that challenges you to shape how we want to evolve in four key areas: land use, mobility, parks, and recreational resources.
Blueprint Denver Community Workshop – Growth
How Should Blueprint Denver Address Growth?
How will Denver address growth as our population continues to increase? Come be part of a scenario planning workshop to help identify the best path forward for managing Denver's growth.
http://www.denvergov.org/content/denvergov/en/denveright.html
Apr 25 2017
Start Time: 5:30 p.m.
End Time: 8:00 p.m.
Location: West Leadership Academy
951 Elati St.
Denver, CO
---