Sunset Paddle Social
Sunset Paddle Social
August 24, 2018 – August 24, 2018
North side near Byron & Yates

Map and Directions | Register
Description: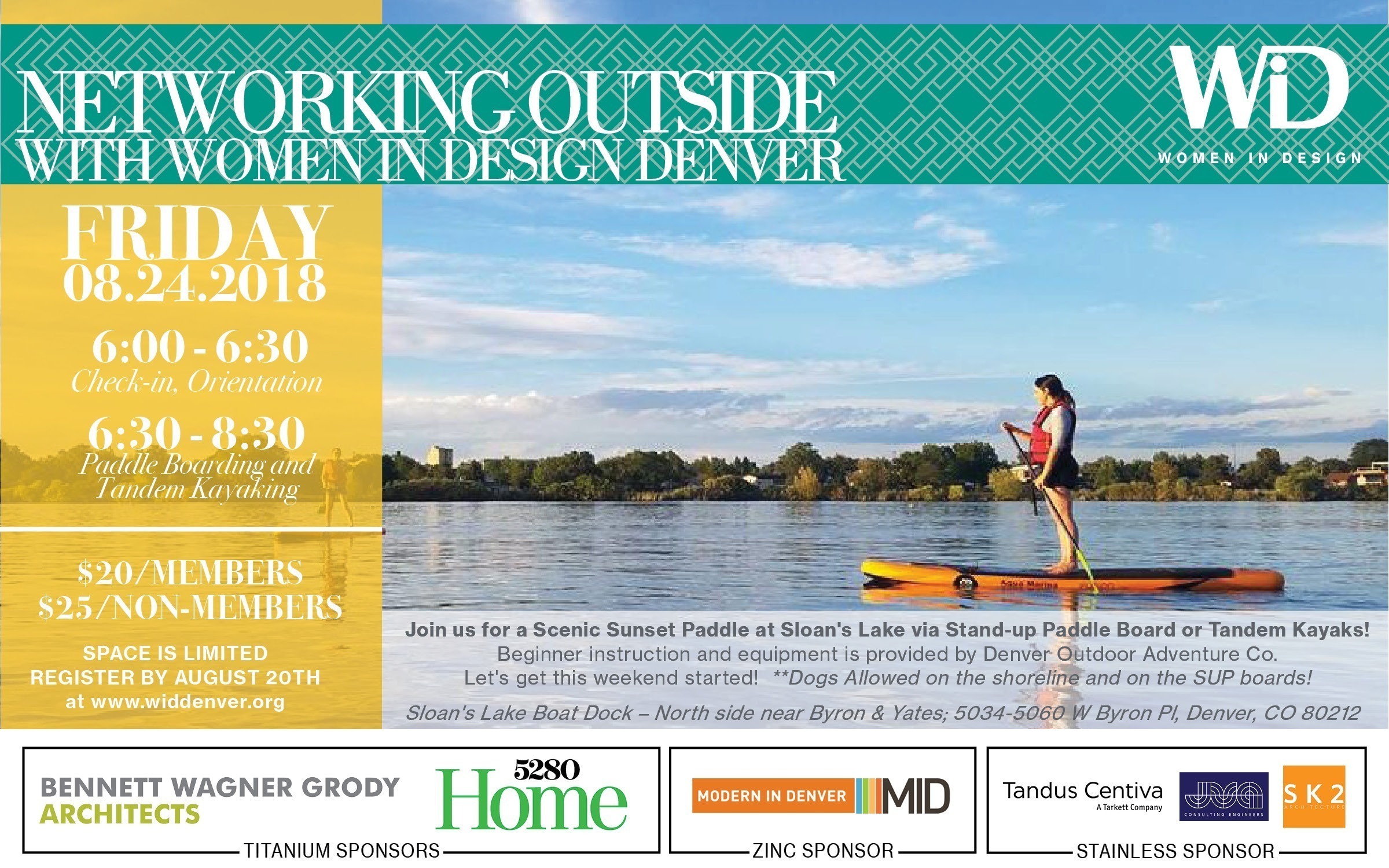 Join us for a Scenic Sunset Paddle at Sloan's Lake via Stand-up Paddle Board or Tandem Kayaks. Beginner instruction and equipment is provided by Denver Outdoor Adventure Co.
Spaces are limited, please sign up by Monday, August 20th.  Please indicate if you would prefer to SUP or kayak. There is likely time for both, but please provide a preference.  If you want to network but don't want to get on the water, choose the "Networking only" option.
**Dogs allowed on the shoreline and on the SUP boards!
---
Women Leaders Joint Happy Hour
Women Leaders Joint Happy Hour
September 6, 2018 – September 6, 2018
3536 Wazee Street

Map and Directions | Register
Description: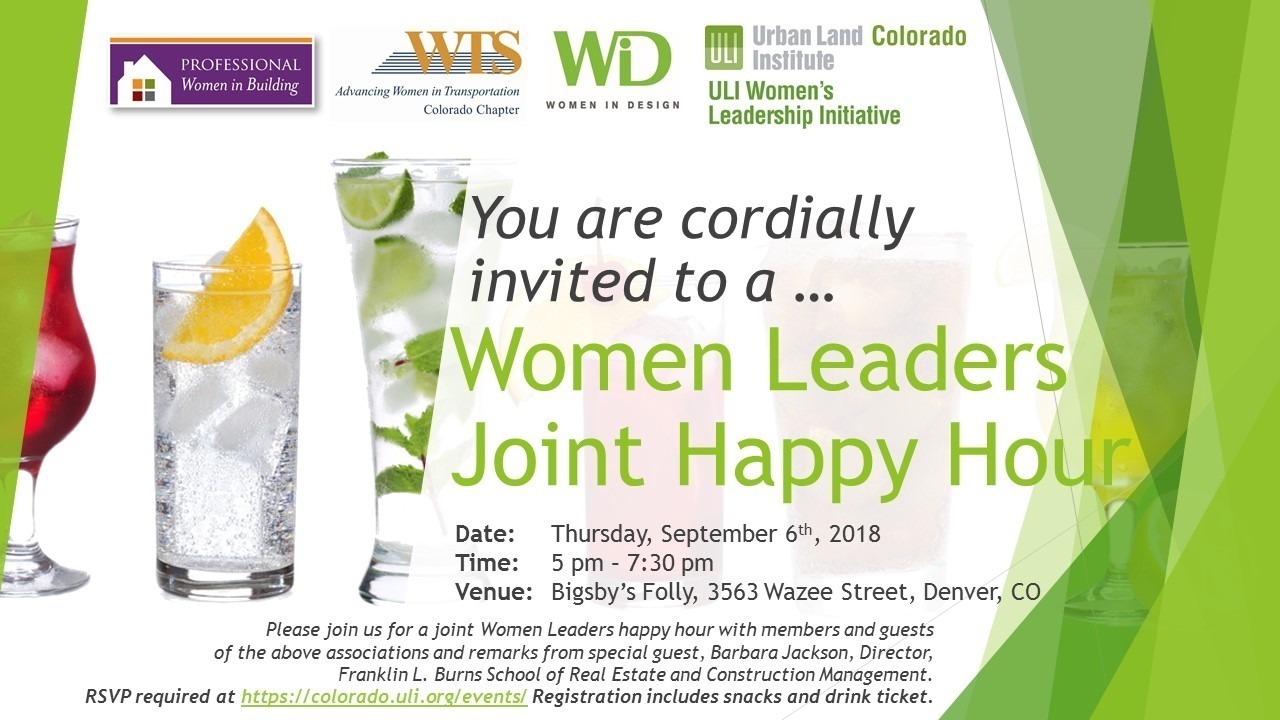 Please join us for a joint women leaders happy hour at Bigsby's Folly in RiNo on the evening of Sept. 6 to network, connect and collaborate with other women leaders in land use! Four organizations are teaming up to bring you a networking event to remember! Our co-hosts include: Professional Women in Building (PWB), Women's Transportation Seminar (WTS), and the Women's Leadership Initiative of the Urban Land Institute of Colorado (WLI).
Special guest Barbara Jackson, director of the Franklin L. Burns School of Real Estate and Construction Management, will join us for remarks on women's leadership in land use.  Ticket includes a drink and appetizers.
WiD Members, log in to your WiD account and click here for discount code.
Non-members may register directly at  uli.org.
---
Habitat for Humanity – Women's Build
Habitat for Humanity – Women's Build
July 21, 2018 – July 21, 2018

Map and Directions | Register
Description: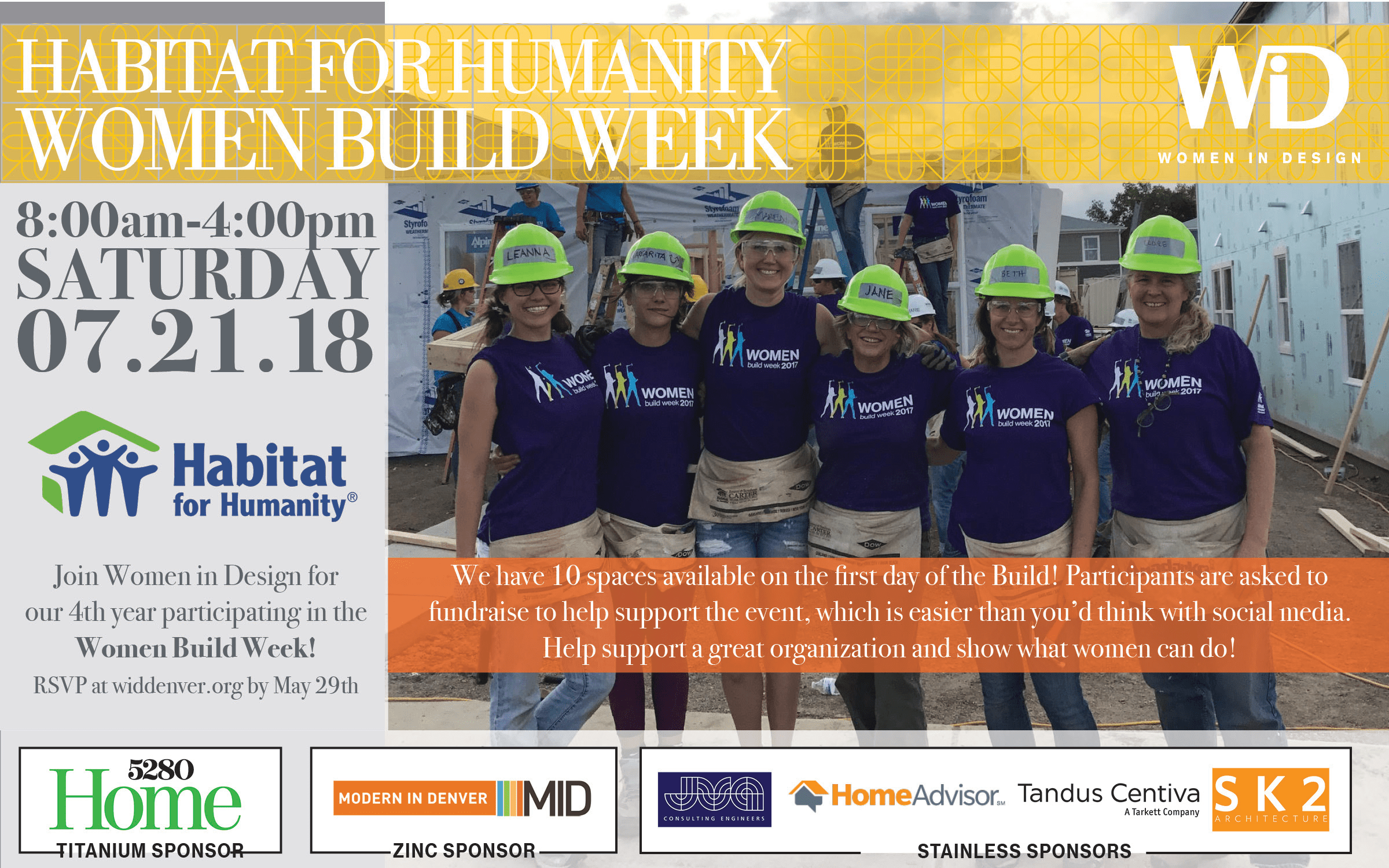 Our team is currently full but you can still support the WiD Women Build Day team by donating on WiD' Habitat for Humanity Fundraising Page.
Our Women Build Team is currently full but if you'd like to sign up for our waitlist, please fill out the registration form below.  If a spot opens up, we will contact you as soon as possible.
---
Seeking an Administrative Assistant
Seeking an Administrative Assistant
Women in Design (WiD) is seeking a goal-oriented and self-motivated, part-time Administrative Assistant to assist keeping WiD organized and running smoothly. Click below for details!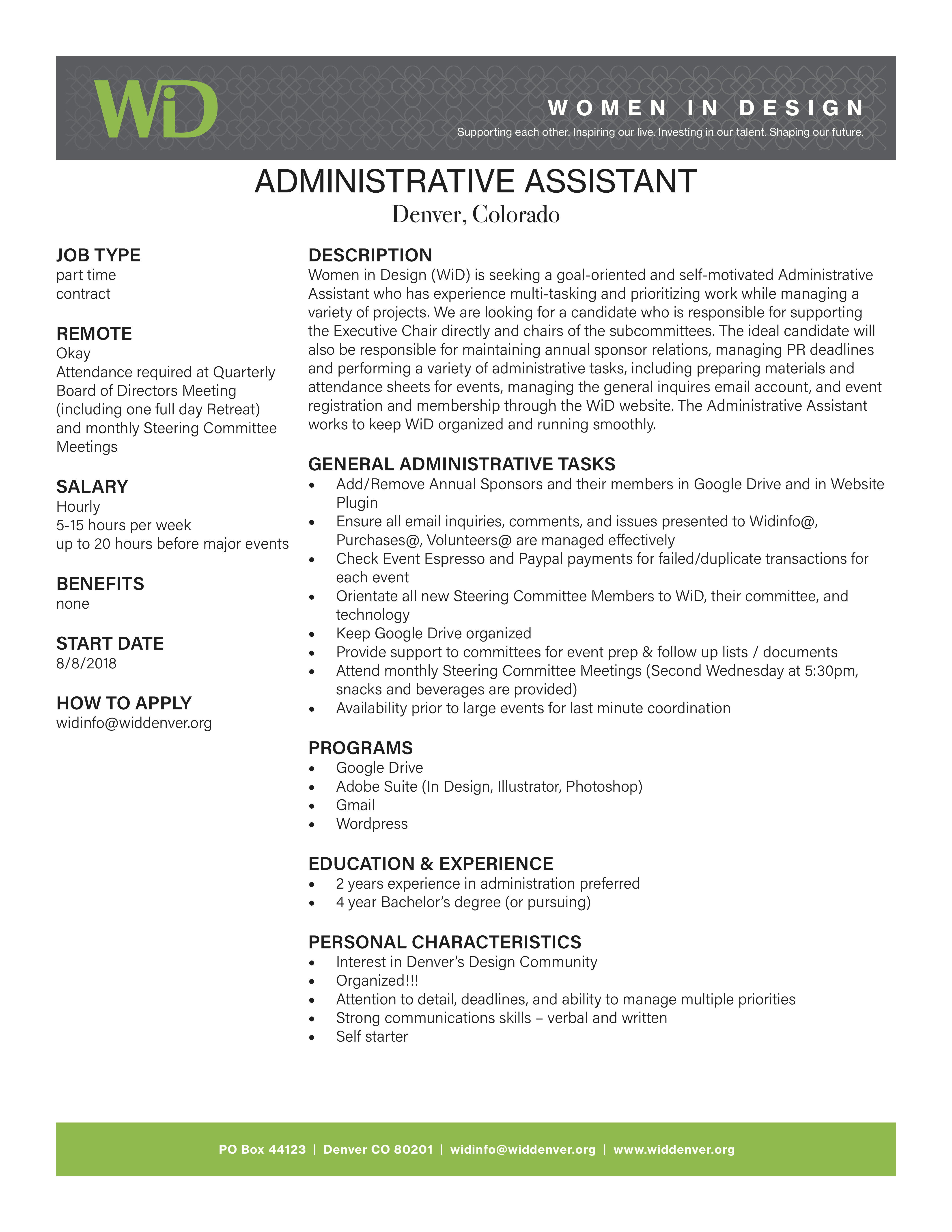 ---
100 Day Watch
100 Day Watch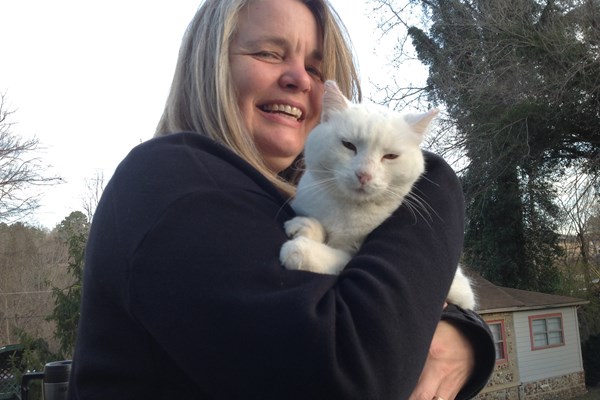 Many of our Women in Design "veterans" know personally and professional our WiD founder, Cheryl Bicknell. Over the last couple of months Cheryl has been going through the process of recovering from Lymphoblastic Lymphoma which is a Non-Hodgkin's Lymphoma via a stem cell transplant and need our help.
The period after the transplant, the "100 days", requires constant supervision. We are looking for volunteers to visit with Cheryl in her home. You can bring your computer (the wifi is excellent) to work, read a book, or chat.
Sign up for available slots here via Meal Train to help us bridge the last 58 days: https://www.mealtrain.com/trains/4dyor8
For more information on Cheryl's journey please read the journal entries here: https://www.caringbridge.org/visit/chartingcherylscourse/journal
If you have any questions please contact me at Geneva.Kowalski(at)widdenver.org
Thank you!
---