2018 Annual 8×8
2018 Annual 8×8
April 25, 2018
3858 Walnut Street

Map and Directions | Register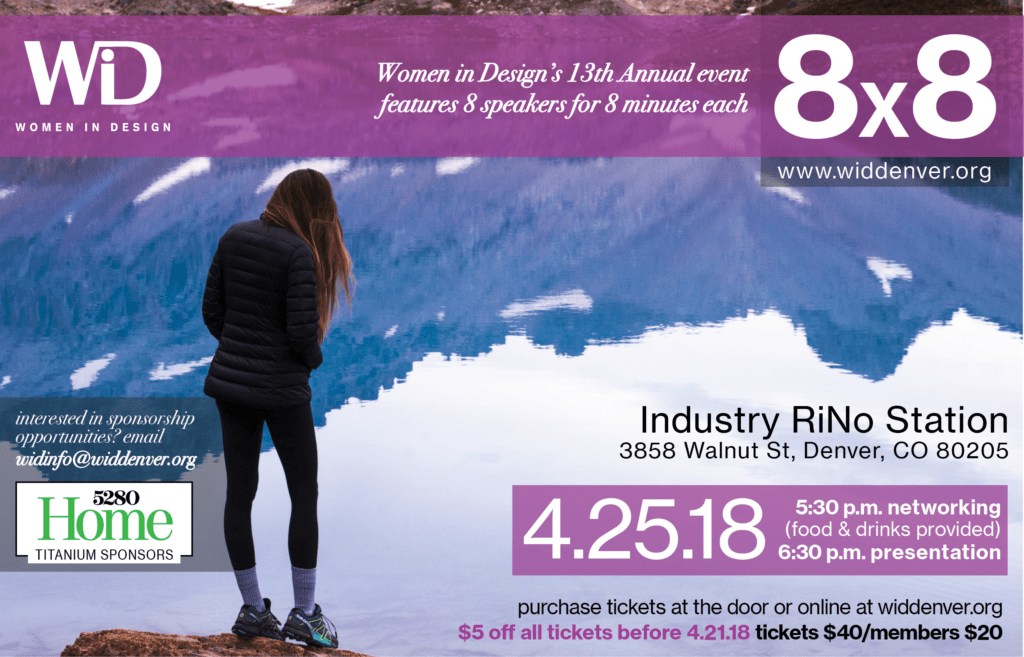 Join WiD for our 13th annual 8×8 featuring 8 speakers for 8 minutes each. Register online at widdenver.org.
$5 off all tickets before April 21st.
Featured speakers TBA!
---
First Tuesday Design Charette
First Tuesday Design Charette
March 6, 2018 – March 6, 2018
1455 Market Street

Map and Directions | Register
Description: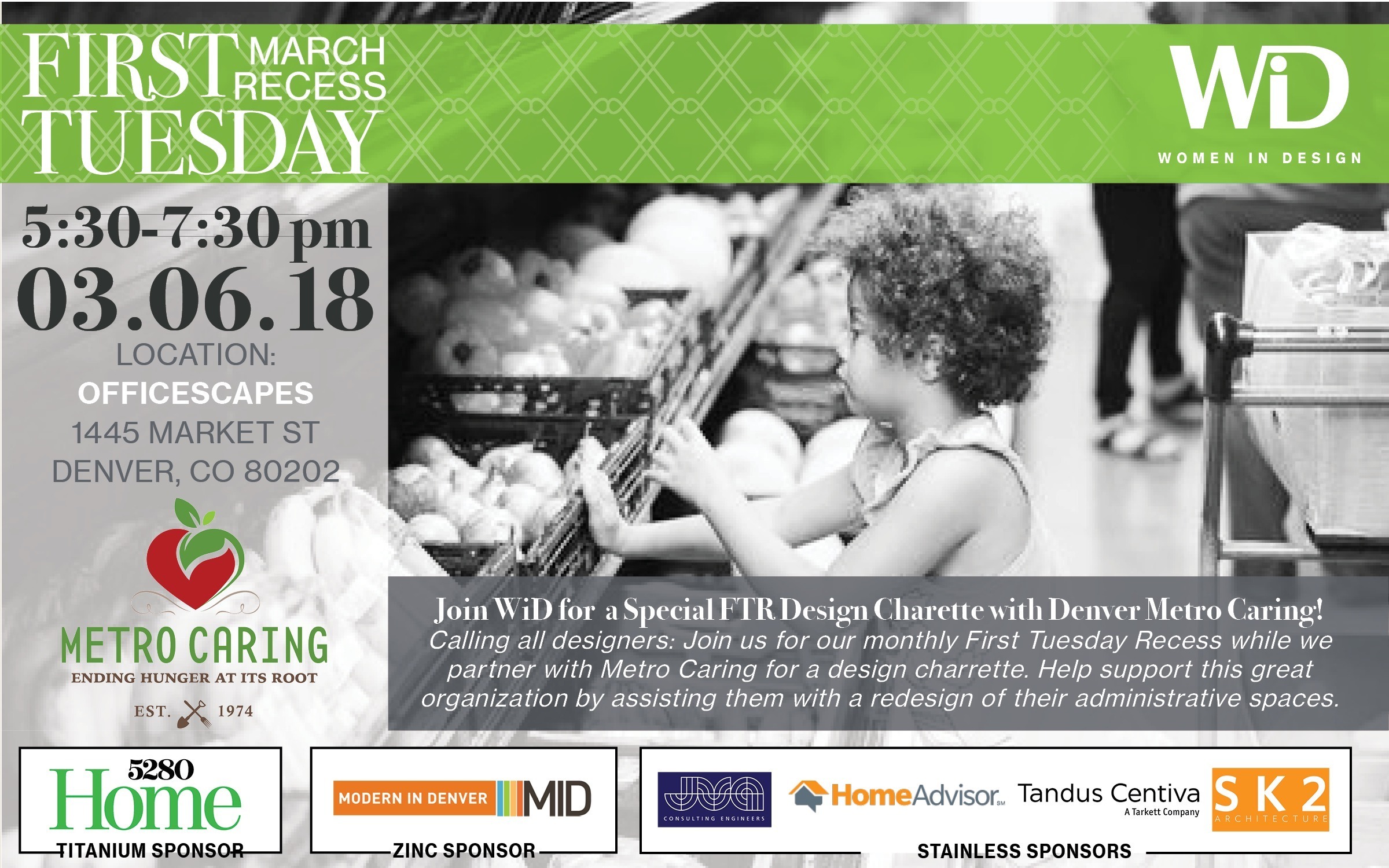 Join us for our monthly First Tuesday Recess Networking Hour while we partner with Metro Caring for a design charrette!  Help support this great organization by assisting them with a redesign of their administrative spaces.  This a free event for both members and non-members.  No registration necessary.
---
16 Chestnut Hard Hat Tour
16 Chestnut Hard Hat Tour
February 22, 2018
1600 Chestnut Place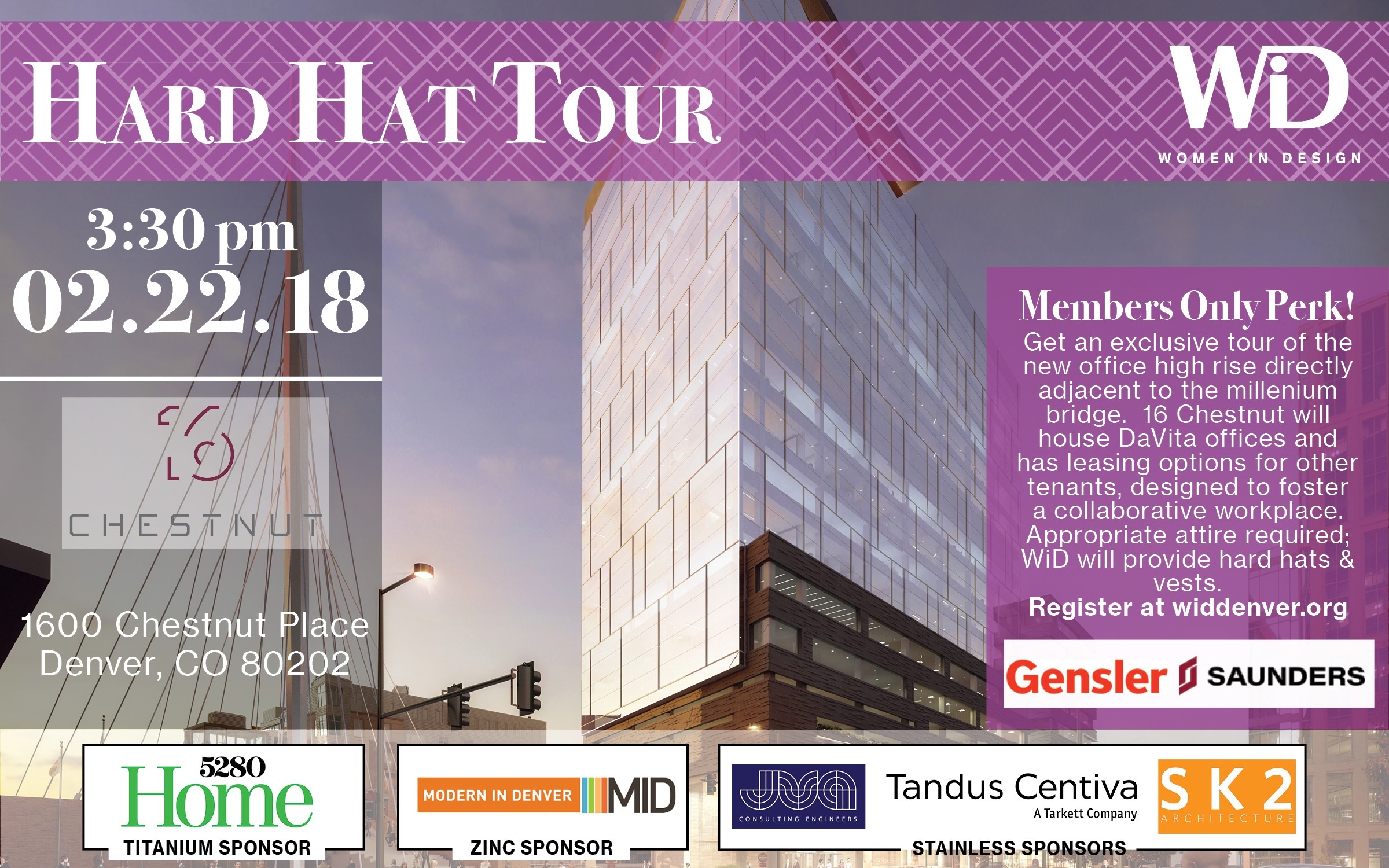 Get an exclusive tour of the new office high rise directly adjacent to the Millennium Bridge. 16 Chestnut will house DaVita offices and has leasing options for other tenants, designed to foster a collaborative workplace.
Some Design Highlights:
– 20 Stories, 6 levels of parking
-650,000 SF -$140 Million Budget (Core and Shell and Tenant Improvement)
-Construction Started 2016, Anticipated finish – November 2018 (Design started in 2013)
– Architect: Gensler – MEP Engineer: Swanson Rink – Structural Engineer: SA Miro
http://16chestnut.com
Hard hat tours are for members of Women in Design only. Spots are limited, so make sure to sign into your account and RSVP ASAP!
Info for Attendees:
-Meet at 3:30 pm in front of Zoe's Kitchen at 17th & Chestnut
-MUST WEAR CLOSED TOE SHOES / BOOTS
-WiD will provide safety glasses, vest, and a hard hat, but it you have your own, please bring them
---
SEGD Denver Presents Jan Lorenc
SEGD Denver Presents Jan Lorenc
Tuesday, March 20th, 6:00pm @ Denver Art Museum (FREE EVENT!)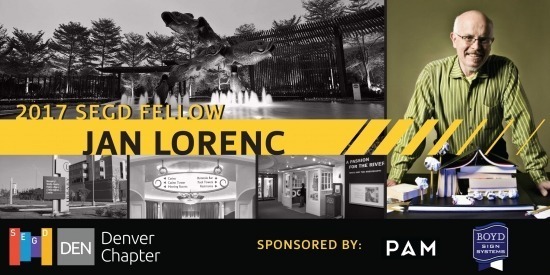 SEGD Denver invites you to spend an evening with our Special Guest and Speaker Jan Lorenc on Tuesday, March 20th at the Denver Art Museum.
Jan has created spectacular places for the world's finest brands including Delta, the Mayo Clinic, Sony, Hyatt, Vanke, Greenland, Samsung, UPS, and many others. He has also designed award-winning museum spaces, trade show exhibits, sculptures, and wayfinding signage systems across the globe. Come listen to the incredible personal, cultural, and international experiences that have cultivated Jan Lorenc's inspiring design career and legacy.
Jan Lorenc recently took his position in the pantheon of SEGD Fellows at the 2017 SEGD Conference Experience Miami, beside experiential graphic design trailblazers including Massimo Vignelli, Lance Wyman, Wayne Hunt, Robert Venturi, Sue Gould, David Gibson, Donald Meeker and Michael Reed, among others.
Lorenc holds degrees in industrial design, architecture and visual communication, and he and his multidisciplinary firm have received numerous honors and accolades over 39 years since the founding of Lorenc+Yoo Design. Lorenc is the author of an exhibit design textbook,"What Is Exhibition Design?" and serves as a frequent design lecturer and adjunct professor of exhibition design at Savannah College of Art and Design (SCAD), as well as at the Georgia Institute of Technology.
---
WiD Denver in Memory of Dan Hohs
WiD Denver in Memory of Dan Hohs
Thank you for your support!
We have raised $962 of the $1,000 goal in Dan's Memory.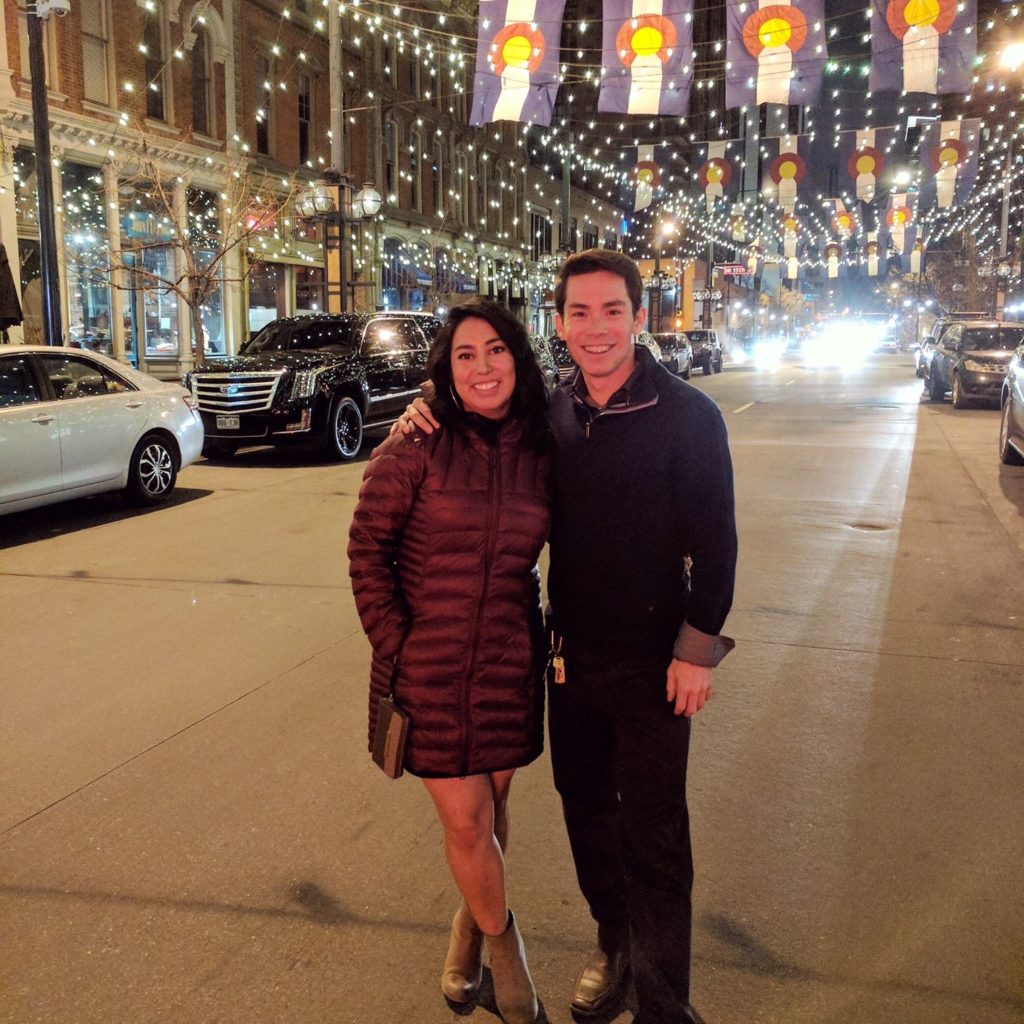 As many of you may know, earlier this fall our fellow WiD member and Board Member, Kristen Ruberg, experienced the tragic loss of her boyfriend, Dan Hohs.
They were doing what they love: enjoying the outdoors on a weekend hike in Golden. Dan was bitten by a rattlesnake.
Dan's legacy is one of great encouragement. He was a well-known triathlete with an extreme passion for sharing and promoting mental health awareness and suicide prevention, through an active lifestyle.
As a group, WiD has decided to contribute to one of his cherished charities: Hope for the Day. "Hope For The Day achieves proactive suicide prevention by providing outreach and mental health education through self-expression platforms."
If you would like to make a contribution as part of our group : "WiD Denver in Memory of Dan Hohs" please go to https://my.hftd.org/team/148178
This donation group is open to anyone, so please share this link with all who may be interested in contributing.
There are many articles that were written about Dan, such as this one : http://www.dailyherald.com/news/20171010/stevenson-grad-killed-by-snakebite-had-magnetic-personality-mom-says
If you are able to contribute any amount, it will be part of a collective donation from WiD. We will update you on the amount raised mid January.
We appreciate your generosity in supporting Dan's memory as well as Kristen.
---