Summer Event: An Evening with Kathryn Gustafson
Description:
Today! July 7th, 2011
Tickets available at the door for Cash or Check only.
Women in Design is honored to host internationally renowned landscape architect Kathryn Gustafson for a presentation of her ground-breaking, contemporary designs gracing our globe today. Come learn more about the creative artistry and methodology behind many of the world's most inspirational, thought-provoking and celebrated places imagined by the firms of Gustafson Guthrie Nichol in Seattle and Gustafson Porter in London.
Ticket price includes entrance to the Denver Botanic Gardens.  Please come early to enjoy the gardens prior to the presentation.
5:30 pm - Reception with hors d'oeuvres and beverages
6:30 pm - Lecture including multimedia presentation
Cost: $20 WID members*, $35 non-members
At the Door:  $25 WID members, $40 non-members

Tickets available at the door for Cash or Check only.
*membership must be current to purchase to receive discounted pricing.
Purchase tickets by filling in the information below.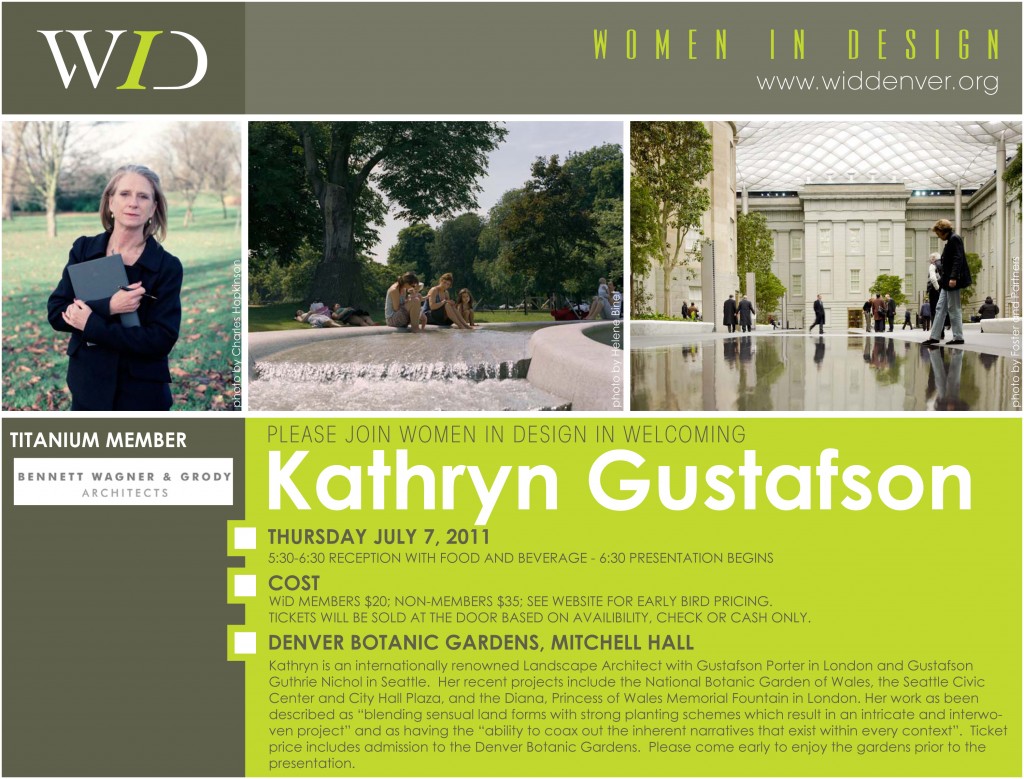 About Kathryn:
Kathryn Gustafson brings over 25 years of distinguished, international practice to Gustafson Guthrie Nichol. Kathryn's award-winning landscapes and structures can be found throughout Europe, North America, and the Middle East. Her diverse span of prominent works, ranging from one to 500 acres in size, are known as ground-breaking, contemporary designs that intuitively incorporate the sculptural, sensual qualities that are fundamental to the human experience of landscape.
Two partner offices, Gustafson Guthrie Nichol Ltd in Seattle and Gustafson Porter in London, continue to evolve the design approach of Gustafson's work into new contexts of time, culture, and nature.
Kathryn Gustafson is an honorary fellow of the Royal Institute of British Architecture, an honorary Royal Designer for Industry, and a medalist of the French Academy of Architecture. She is the recipient of The Chrysler Design Award and of London's Jane Drew Prize. She is active in lecturing, and her work is widely published. Kathryn's recent work in both offices may be found in such projects as the Westergasfabriek Culture Park in Amsterdam, the National Botanic Garden of Wales, the Seattle Civic Center and City Hall Plaza, and the Diana, Princess of Wales Memorial Fountain in London.
 
Firm Bio
 The designs of Gustafson Guthrie Nichol express the sculptural qualities of contextual landscape.
GGN offers special experience in designing high-use landscapes in complex, urban contexts. On rooftops, between buildings, or suspended in the air, GGN's landscapes are widely varied but share qualities as healthy settings for diverse and ever-changing activities.
The local complexities of human experience and natural systems are deeply embedded into GGN's landforms. This creates landscapes that are serenely grounded while also feeling alive and comfortable at all times -- whether bustling with crowds, offering moments of contemplation, or doing both at once. As author Jane Amidon describes, GGN's "gentle warping and cutting (or cupping and canting) of land form in both plan and section allows a flexible perception of spatial volume, enabling the site to be 'empty when full, full when empty.'"
Watch videos of the work of GGN and Gustafson Porter
Rita Barberá - Kathryn Gustafson, Paisajita Parque
Tickets are still available at the door for Cash or Check only