2020 WiD VIP Celebration
February 4, 2020
590 Quivas Street

Map and Directions | Register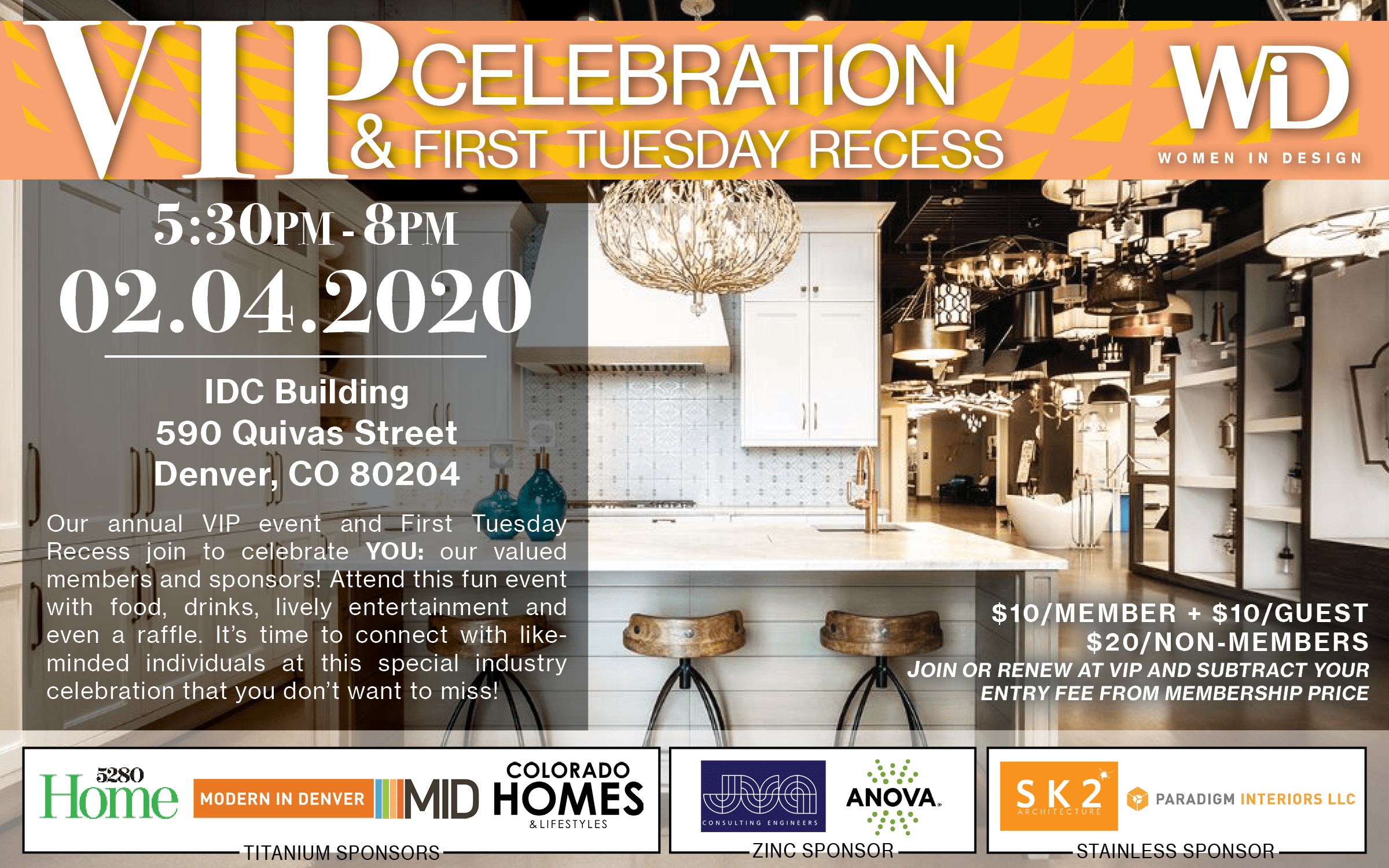 You are invited to join WiD at this annual celebration of our valued members and sponsors. If you join or renew your annual membership during the celebration, the cost of your entry fee will be subtracted from the price of membership!
(Members – verify you are logged into your account to purchase a ticket for you and for a friend at $10)
Interested in sponsorship? Click these links to more about becoming an Event Sponsor or Annual WiD Sponsor.
Thanks to Aztec Rug, our venue sponsor!

PREREGISTRATION ENDS ON FRIDAY, JANUARY 31. TICKETS WILL BE AVAILABLE AT THE DOOR.
---
January FTR & Monet Exhibit Tour at DAM
January 7, 2020 – January 7, 2020
100 W 14TH AVENUE PKWY

Map and Directions | Register
Description: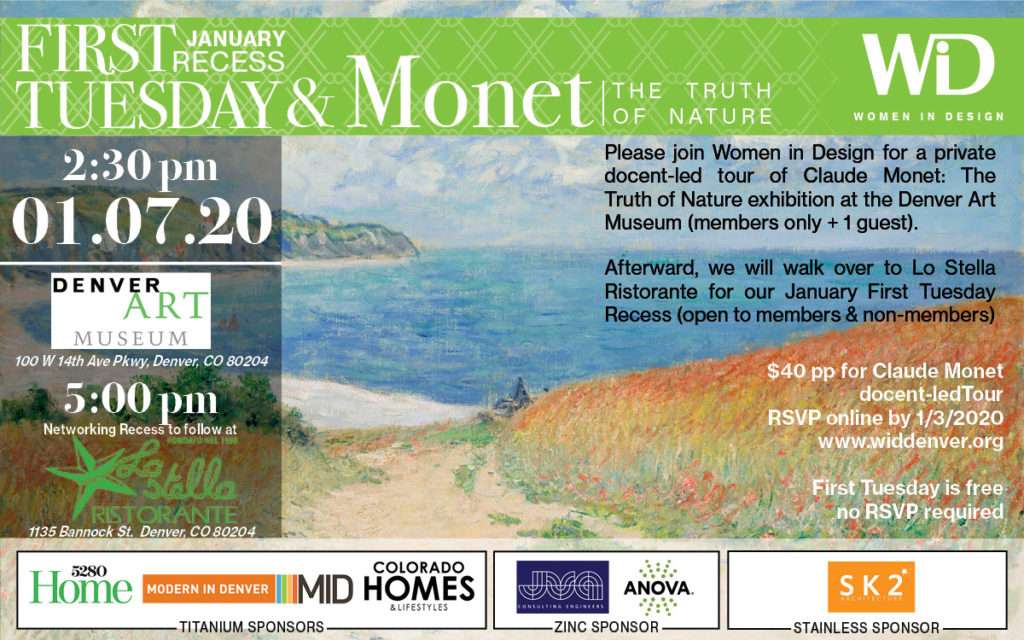 Women and Design has reserved a private, docent-led tour of the new exhibit "Monet: the Truth of Nature" at the Denver Art Museum.  This tour is for members only.  Each member may bring 1 guest.  The cost of the tour is $40 per person.  Please arrive 10  minutes early to the tour.   This tour is only at DAM through February 2, 2020.
The Denver Art Museum is home to the most comprehensive U.S. exhibition of Monet paintings in more than two decades. Claude Monet: The Truth of Nature features more than 120 paintings spanning Monet's entire career and focuses on the celebrated French Impressionist artist's enduring relationship with nature and his response to the varied and distinct places in which he worked.
We will conclude or tour with the regularly scheduled First Tuesday Recess at Lo Stella Ristorante.  Please note that you do not need to buy a ticket for the tour to attend our First Tuesday Recess.  The recess is open to non-member and members and no RSVP is necessary.
---
December First Tuesday Recess
Join WiD for our annual philanthropic December First Tuesday. This year the Outreach committee will be collecting in-kind donations to SafeHouse Denver in honor of Michelle Jacobson. The list (only new items, please) can be found on their website https://safehouse-denver.org/get-involved/wish-list.html.
First Tuesdays are open to nonmembers and please invite friends and colleagues. No RSVP necessary.
Additionally, a GoFundMe site has been set up to raise funds towards an urban art installation. Learn more and donate at https://www.gofundme.com/f/michelle-jacobson-memorial-fund.
---
WiD in the News
---
November First Tuesday Recess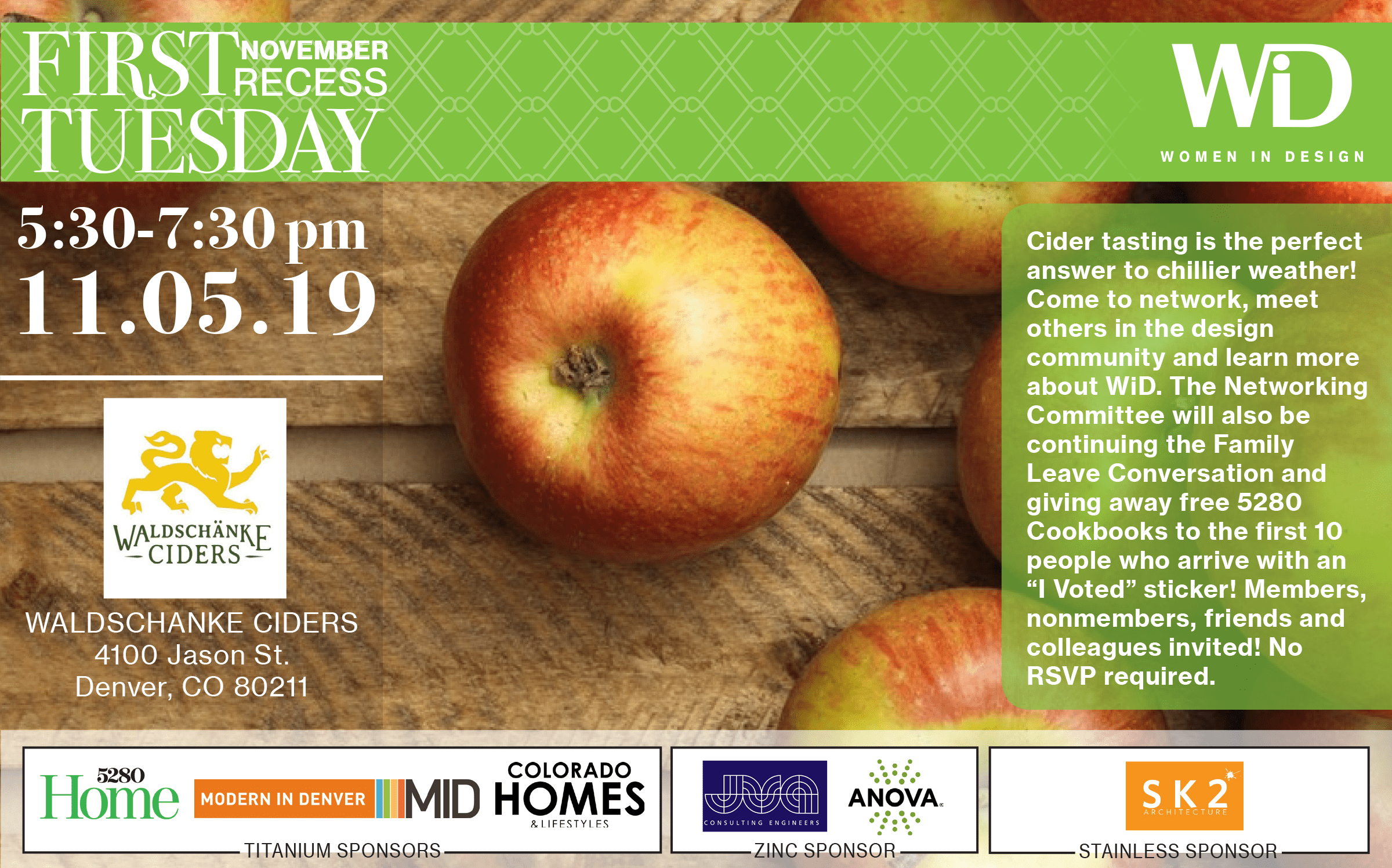 Come to network, meet others in the design community and learn more about WiD.
The Networking Committee will also be continuing the Family Leave Conversation and giving away free 5280 Cookbooks to the first 10 people who arrive with an "I Voted" sticker!
Members, nonmembers, friends and colleagues invited! No RSVP required.
---