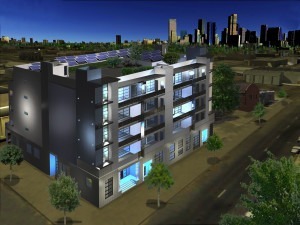 GreenSpot Real Estate, a leader in adding value to real estate through green-building certifications and energy efficiency, is bringing to market Factory Flats, a sustainable five-story mixed-use building expected to be completed in mid-2016. The development, located in the heart of RiNo, is targeting LEED and ENERGY STAR certifications and will have office and retail space for lease, in addition to 24 residential flats for sale. The units will feature hardwood floors, European cabinetry and quartz countertops, and all will be solar-powered.
RiNo, once an abandoned industrial neighborhood, has experienced a housing boom in recent years. Since art galleries, restaurants, shops and bars started to infiltrate the area, young professionals and Baby Boomers alike have been moving to the neighborhood in droves. Sales of office, industrial, retail, land and multifamily housing properties in RiNo have reached $365 million in the past five years.
"RiNo is hot right now, and Factory Flats is an exciting prospect for people who want to invest in this up-and-coming neighborhood," said Melissa Baldridge, Co-Owner & Co-Founder of GreenSpot Real Estate and Women in Design member. "This project furthers GreenSpot's mission of affecting climate change through the built environment. With sustainability top of mind, we are proud to offer a beautiful, green, community-focused home in Denver's hottest zip code."
For more information, visit http://www.factoryflats.com/.