Join WiD on April 25th to hear each of these 8 panelists speak for 8 minutes each.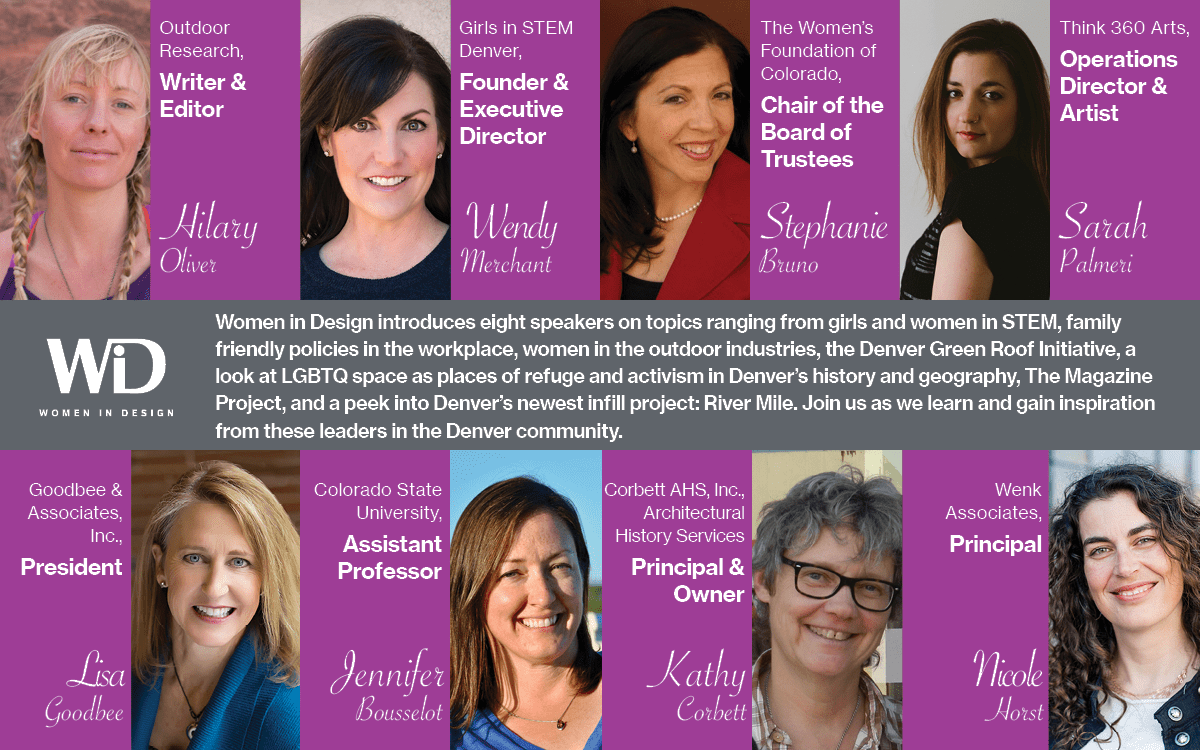 Hilary Oliver: Outdoor Industries
Hilary Oliver is a writer, editor and filmmaker based in Denver. She manages and edits Verticulture, the blog for Seattle-based gear company Outdoor Research. As a freelancer, her writing has appeared in Bust, Outside, Adventure Journal, National Geographic Adventure and many other websites and magazines. Her short films have shown at festivals like Banff Mountain Film Festival and Mountainfilm in Telluride. You can find her at hilarymoliver.com.
Wendy Merchant: Education for girls in STEM
Wendy founded Girls in STEM Denver with the express purpose of helping close the gender gap in STEM fields by leveraging her enthusiasm, determination and resources to create pathways that encourage girls to seek a STEM related career prior to entering post secondary education. Wendy graduated with a BS in Architectural Engineering from the University of Wyoming and is a licensed mechanical engineer. Her background includes 20 years of experience working in the Colorado design and construction industry as a consulting mechanical engineer designing building systems including; HVAC, plumbing, fire protection and building automation control systems. In 2013, Wendy decided to follow her passion to give back to the community, founding the nonprofit, Girls in STEM Denver. Utilizing her talents, experience and extensive network of professional women working in STEM related careers, Girls in STEM Denver works directly with high school and middle school students to provide real world career exploration, networking, mentoring and job shadowing opportunities. In her free time, Wendy also enjoys being outdoors skiing, golfing, gardening and spending time with her family.
Stephanie Bruno: Retention for Women in STEM
Stephanie Bruno is chair of the Board of Trustees for The Women's Foundation of Colorado, a unique community foundation that creates more pathways to economic security for Colorado women. This is her seventh year on the board of trustees where she has also served as Treasurer, and Chair of the Audit and Finance and Investment committees. In her day job Stephanie runs her own financial planning practice where she works to improve the impact of money in peoples' lives. Stephanie is an Accredited Investment Fiduciary®, a Certified Financial Planner®, a Certified Private Wealth Advisor® and a Retirement Manager Advisor?. In addition to volunteering with the Women's Foundation, she serves on the Colorado Zoological Trust Board and previously served on the Lighthouse Writers Workshop Board. Stephanie is honored to be included in the inaugural class of the Denver Metro Chamber Leadership Foundation's Colorado Civic DNA Fellows program.
Sarah Palmeri: The Magazine Project
Sarah graduated with a BFA in Fine Arts from Louisiana State University in 2011, where she studied mass communication and studio art. She has worked with Think 360 Arts for Learning since early 2016, an arts education nonprofit that integrates the arts in schools and community centers around Colorado. Her work has been exhibited in Ann Arbor, Baton Rouge, Denver, Key West, Los Angeles, Taos, Santa Fe, and San Francisco, and she has been a member of Strangers Art Collective of Santa Fe, NM since 2015. Sarah is currently is living and working in Denver, Colorado.
Lisa Goodbee: Maternity/Creative Leave
Lisa A. Goodbee, PE has 34 years of experience in a wide variety of civil engineering projects. She started Goodbee & Associates, Inc. in 1994, and along with her staff of 16 utility engineers and planners, has enabled Goodbee to become known as the "go-to" firm for utility coordination. Her experience encompasses a broad range of transportation and utility design and design build projects, including all but one of RTD's FastTrack's Corridors and countless CDOT and municipality transportation projects in the metro Denver area, throughout Colorado as well as in Texas, California and Nevada.
Jennifer Bousselot: Denver Green Roof Initiative
Jennifer Bousselot is the Colorado Native Plant Society (CoNPS) Marketing and Events Coordinator and teaches classes and advises online students at Colorado State University in the Department of Horticulture and Landscape Architecture. Jen completed her doctorate research studying green roof species selection, including Colorado native plants, and substrate compositions at Colorado State University in 2010. Jen has taught both homeowner and college-level horticultural courses and managed Master Gardener programs in two states over the past 15 years.
Kathleen Corbett: LGBTQ Spaces
Kathleen Corbett, principal and owner of Corbett AHS, Inc., has worked as a professional architectural historian since 2004 and holds a Ph.D. in architecture from the University of California at Berkeley. Currently, she serves on Denver's Landmark Preservation Commission and on the Colorado Historic Preservation Review Board. Her interest in LGBTQ history dates back to the 1970s when, as a teen, she stole a copy of Gay American History from her hometown public library. It saved her life and she still has it.
Nicole Horst: River Mile
Nicole brings over eighteen years of experience designing and managing some of Wenk Associates' most complex park, riverfront, and greenway projects that often require the coordination of multi-disciplinary consultant teams and multiple stakeholder groups. She has managed multiple projects along Denver's South Platte River that range from planning for recreation use as part of habitat restoration and flood risk reduction, final design and construction documents for a new urban park and promenade in the emerging River North (RiNo) arts district, final design and construction of Shoemaker Plaza at Confluence Park. Nicole was responsible for the design and construction of Steamboat Ski Resort's base area pedestrian promenade and daylighted creek. Currently, Nicole is developing the plan to implement the vision for 7.2 miles along the Grand River in Grand Rapids, Michigan, and she is part of the visioning team for the future 'River Mile', a new urban district along the South Platte River in Downtown Denver.