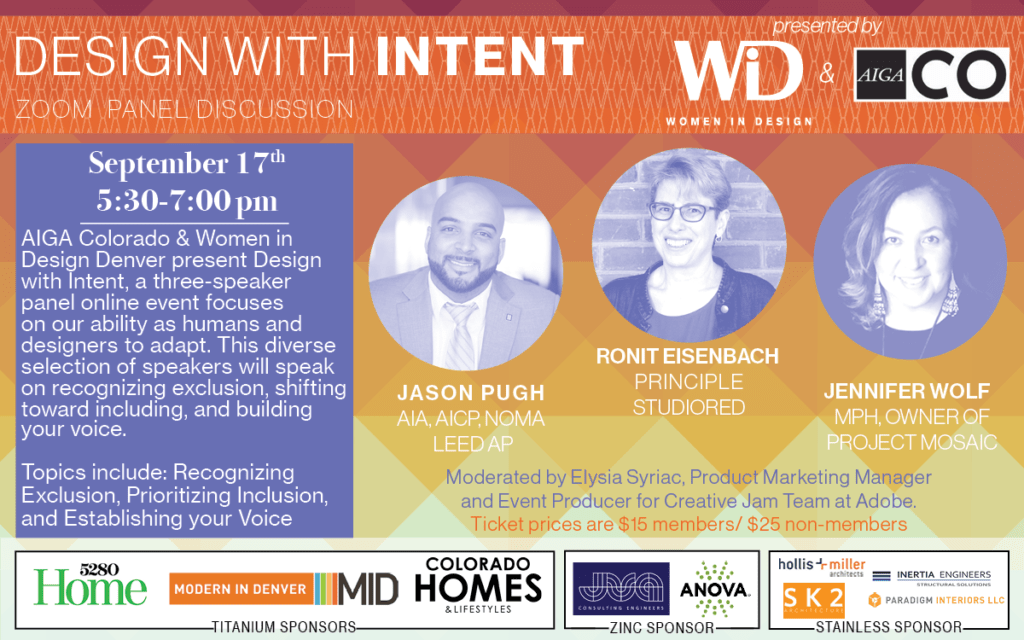 *Don't forget to log into your WiD account to view the member discount code below.
AIGA Colorado & Women in Design Denver present Designing with Intent, a three-speaker panel online event focuses on our ability as humans and designers to adapt. This diverse selection of speakers will speak on recognizing exclusion, shifting toward including, and building your voice. As designers we have a responsibility not only to our clients, but also to people interacting with our designs. This broad audience requires us to expand our lens to recognize obstacles, diversity, and exclusion. Designing with intent means that we recognize and consider how we intentionally exclude, include, and design these interactions. It is how we intentionally design participation and mutual understanding across a diverse spectrum of culture, gender, identity, socioeconomic backgrounds, and additional variables that make up our humanity.
Topics Include:
1. Recognizing Exclusion: Understanding how our own bias gets in the way of the problems we are trying to address.
2. Prioritizing Inclusion: It is essential to engage with folks of all abilities, identities, and experiences throughout the design process
3. Establishing Your Voice: Tell your story and how your experiences have shaped the way you design with intent.
Breakout discussion groups will follow the presentations and panel discussion.
Event Schedule:
5:30 Introductions
5:45 Presentations and Panel Discussion
6:45 Breakout Discussion Rooms with Panelists
If you are interested in the topic but can't attend, please register and a link to the recorded event will be sent to you.