September 4, 2020 – September 25, 2020

Map and Directions | Register
Description: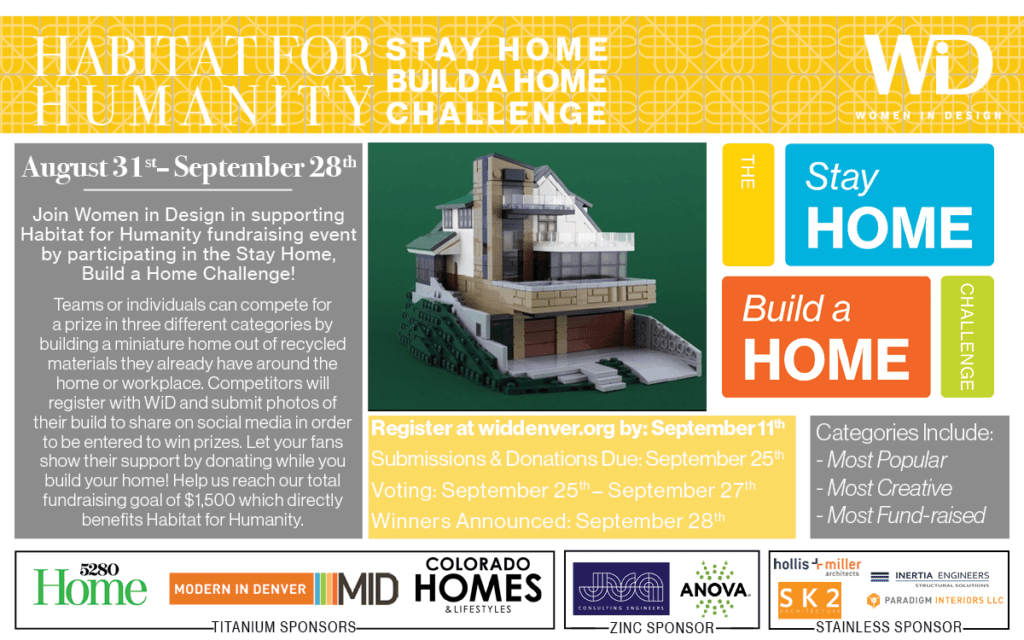 Registration is closed but you can still help us reach our fundraising goal by visiting our page here! Also, stay tuned to our social media pages to vote for the winners!
Help us reach our total fundraising goal of $1,500 which directly benefits Habitat for Humanity.
Join Women in Design in supporting Habitat for Humanity fundraising event by participating in the Stay at Home, Build a Home Challenge. Teams or individuals and compete for a prize in three different categories by building a miniature home out of recycled materials they already have around the home or workplace.
Competitors will register with WiD and submit photos of their build to share on social media in order to be entered to win prizes. Let your fans show their support by donating while you build your home! Categories include Most Fund-raised, Most Popular, and Most Creative.
Register by September 11th to enter into the competition. Photos are to be submitted by September 25th and donations by September 11th. Photos will be uploaded to social media for voting September 25th-27th. Winners will be announced on September 28th.
Once registered with WiD, you will be emailed with more details from the Outreach Committee.