January 7, 2020 – January 7, 2020
100 W 14TH AVENUE PKWY

Map and Directions | Register
Description: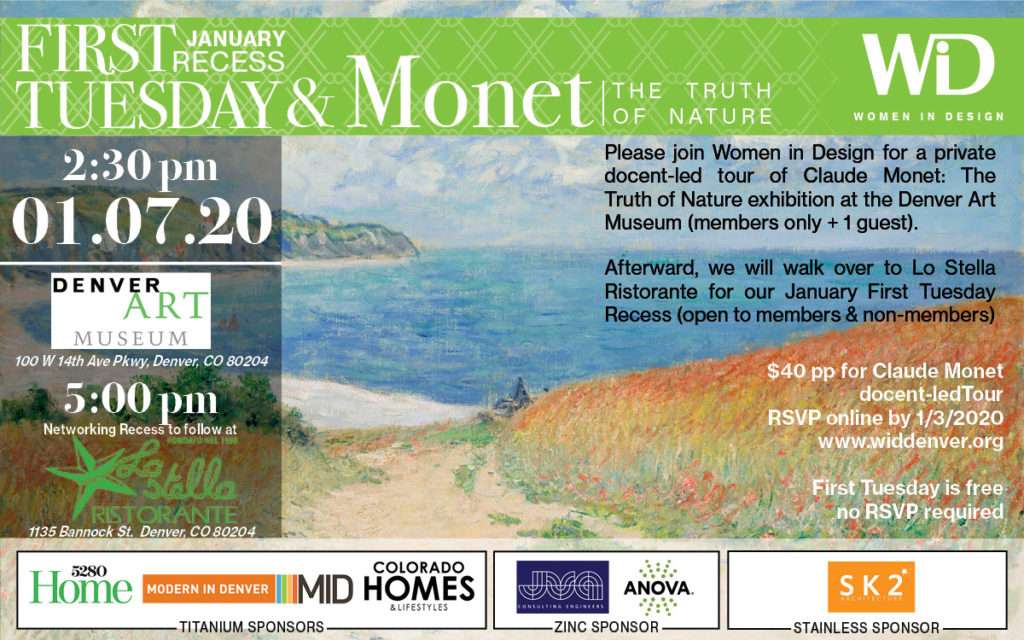 Women and Design has reserved a private, docent-led tour of the new exhibit "Monet: the Truth of Nature" at the Denver Art Museum.  This tour is for members only.  Each member may bring 1 guest.  The cost of the tour is $40 per person.  Please arrive 10  minutes early to the tour.   This tour is only at DAM through February 2, 2020.
The Denver Art Museum is home to the most comprehensive U.S. exhibition of Monet paintings in more than two decades. Claude Monet: The Truth of Nature features more than 120 paintings spanning Monet's entire career and focuses on the celebrated French Impressionist artist's enduring relationship with nature and his response to the varied and distinct places in which he worked.
We will conclude or tour with the regularly scheduled First Tuesday Recess at Lo Stella Ristorante.  Please note that you do not need to buy a ticket for the tour to attend our First Tuesday Recess.  The recess is open to non-member and members and no RSVP is necessary.